Are schools in Europe today fit for purpose?
Ahead of World Children's Day 2021, Eurochild and its members in the ICAM Programme discussed solutions on how to respond to the impact of COVID-19 on children's right to education.
Education is often described as a gateway to children's futures. But for one in four children across the EU living in poverty or social exclusion, this gateway is neither accessible nor inclusive and does not meet their needs.
For this reason, to mark this year's World Children's Day, on 18 November 2021 Eurochild organised its largest online event ever: Education - A gateway to well-being for all children to ask the following question to political leaders, policymakers, school leaders and civil society: Are schools in Europe fit for purpose?
With over 400 attendees joining, it is evident to us that there is a recognition of the need for all of us – politicians, policymakers, practitioners and civil society alike – to come together and reform our education systems. European education systems need to become more inclusive and rights-based.
Our webinar highlighted how the COVID-19 pandemic has impacted children's rights to education and their right to be informed about their rights as set out by the United Nations Convention on the Rights of the Child (UNCRC).
We featured insights from practice and research into how the pandemic has impacted children in Italy, Romania, Spain and the UKwith input from Save the Children Italy, Terres des Hommes Romania and Prahova County's School Inspectorate, and Plataforma de Infancia.
Antonio Casquero, a teacher from Madrid, Spain, shared examples of how he and his colleagues are improving student well-being and inclusion in their school through the Including Children Affected by Migration (ICAM) programme. Examples shared included:
completing activities from the free-to-download "Emocionario" book together
students keeping a "Lockdown Diary" to document their feelings and experiences
using a classroom based "Today I Remember You" mailbox to improve empathy skills.
We were also joined by political representatives from the European Parliament's three largest political groups – the European People's Party, the Socialists and Democrats and the Renew Group:
"For the Child Guarantee to be a success, Member States must make sure that children have access to resources and services, including social and emotional training in their curriculum... This is why school success should not be measured by dry figures and numbers, it should be measured by wider well-being indicators across the education sector." - MEP Antonio López-Istúriz White, Vice-Chair of the Intergroup on Children's Rights from European People's Party, Spain
"I want to praise those people that are involved daily in helping children in different fields. This is a difficult task and we should invest more in helping such experts. We should involve them and listen to them more when drafting policies." – MEP Victor Negrescu, the Socialists & Democrats, Romania
"Education, social and emotional well-being of the most vulnerable groups of children is an urgent priority that deserves a European approach. We must consider education as an investment, and not as an expenditure." – MEP Ilana Cicurel, the Renew Group, France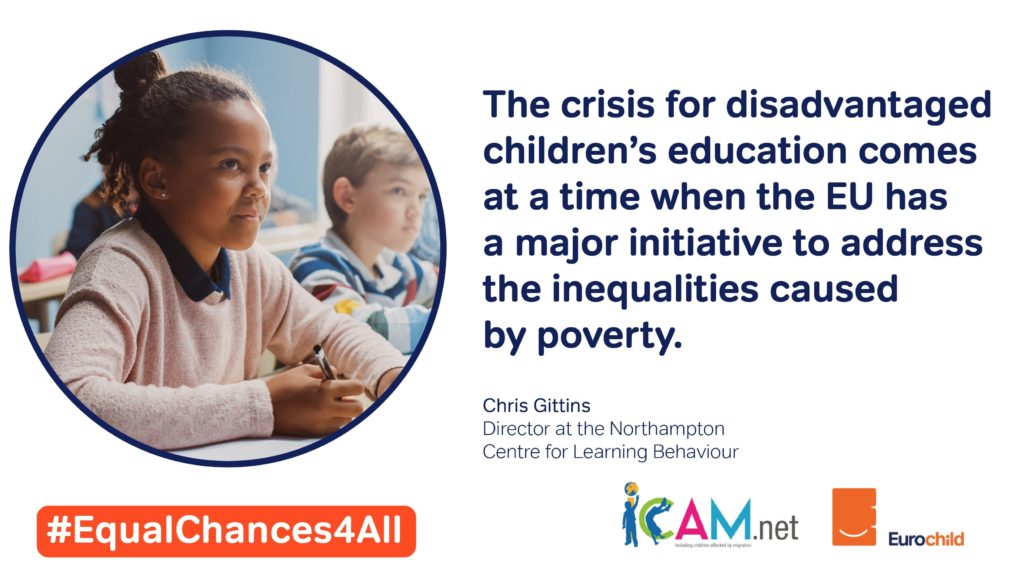 As Europe's premier children's rights network, we find it is promising that the EU is prioritising "school success" and catalysing investment in early childhood education and school through the European Child Guarantee and the European Education Area. As Eurochild, we intend to catalyse on the invaluable interventions from our webinar to keep these issues high on the agenda at EU & national levels in the coming years of implementation for these initiatives.
"Today we have discussed solutions to start embedding well-being and social emotional learning at the heart of Europe's education systems. We at Eurochild, together with our members, will continue to campaign to ensure that these initiatives put children's rights and needs at the forefront."
-Ally Dunhill, Eurochild's Head of Advocacy
Links for more information:
This webinar was organised as part of our work implementing the ICAM (Including Children Affected by Migration) programme across Europe. Read more about this innovative and proven schools-based programme by visiting the ICAM website.
You can find the recording of this webinar on our event page, along with presentation material and key learnings from ICAM.
Contact Ciaran O'Donnell from the Secretariat for more information on our work on education.